Clerk Magistrate or Show Cause Hearings
April 24, 2023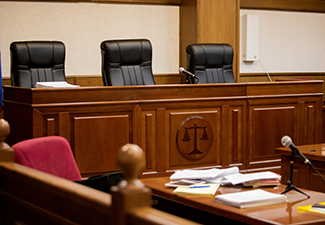 Show cause or magistrate hearings are unique to the Commonwealth of Massachusetts. Show cause hearings result when no arrest has been made, but a law enforcement official, or even a private citizen (a victim of an alleged crime), seeks to have charges filed against someone. This is done by filing an Application for a Criminal Complaint with a District Court.
If you receive a notice of a show cause hearing, you will be summoned to appear before a District Court clerk magistrate, who is not required to even have a law degree. The purpose of the hearing is to determine whether there is probable cause to charge you with a crime. The hearing, unlike criminal trial proceedings after someone has been arrested, is not generally open to the public, but you as the accused are allowed to bring witnesses.
Have you received a notice to appear before a clerk magistrate for a show cause hearing in or around Springfield, Massachusetts? If so, reach out to me immediately at the Law Office of Joseph M Pacella. I am a criminal defense attorney who can help you prepare for the hearing so that you can pursue the best possible outcome. I also serve clients throughout Western and Central Massachusetts, including Northampton, Westfield, Amherst, and Palmer.
What Is a Show Case or Magistrate Hearing?
A show cause hearing springs from a complaint filed by a police officer or a victim who is seeking to have criminal charges filed. Show cause hearings, unique to Massachusetts, derive from a 1943 court decision that established the hearings "for the protection and benefit" of the accused.
Most criminal prosecutions begin with an arrest, followed by a complaint being filed that will lead to trial proceedings. In contrast, show cause hearings are filed outside of the arrest-and-complaint process.
Police and individuals can file an Application for a Criminal Complaint to commence a show cause hearing, which may or may not result in an actual charge being filed. These complaints can arise for various reasons.
Some complaints may hinge on missed child or spousal support payments or missed healthcare payments under parenting agreements. Other causes can include leaving the scene of an accident, shoplifting, assault, drug possession, and more.
Though most complaints are for misdemeanors, it is also possible that a complaint can be for a felony, which occurs in about one in eight cases.
If you've received a misdemeanor traffic citation, you can request a show cause hearing if you file within four days of receiving the citation.
Possible Outcomes of a Magistrate or Show Cause Hearing
The Revised Complaint Standards from the Trial Court of the Commonwealth District Court Department issued in 2008 state: "The primary role of the magistrate is to determine whether probable cause exists to require the accused to answer to a criminal charge. However, magistrates may decline to authorize complaints where the law allows the conflict to be fairly resolved in a different manner."
That being said, there are three possible outcomes from a show cause hearing before a magistrate:
DISMISSAL: If the complainant fails to show probable cause of the crime being alleged, the clerk magistrate can dismiss the proceedings. No record of the hearing will appear on a criminal record.

ISSUANCE OF A COMPLAINT: If probable cause is shown, then the clerk magistrate can issue a complaint. In this case, the defendant will be arraigned and formally charged in District Court. The defendant may then retain a criminal defense attorney or have a public defender appointed if financially eligible. The charge will appear on the defendant's criminal record.

CONTINUANCE: The clerk magistrate, even when there is a showing of probable cause, can issue a continuance, usually for six months or a year. Conditions will be set for the defendant to follow, much like on probation. If the defendant complies with the conditions throughout the continuance, he or she will see the complaint dismissed, and no criminal record will result.
Preparing for the Hearing
Seeking legal counsel is the first step. Working with your defense attorney, you can then assemble the documents needed for your defense and also determine who you may be able to call as witnesses on your behalf. You'll also need to prepare for what evidence, documentary or testamentary, the complainant may use against you.
Don't Face the Courts Alone
A show cause hearing is not a do-it-yourself proposition. A lot is on the line, including potential penalties such as jail time, fines, restitution, and probation, to say nothing of a criminal record that can haunt you going forward. You need to seek out and retain experienced legal counsel.
If you're in or around Springfield, or anywhere in Western or Central Massachusetts, contact me immediately at the Law Office of Joseph M Pacella. As a former prosecutor in Hampshire County, I know how the other side thinks and operates.
I will work with you to develop a strong strategy to counter and challenge whatever evidence is being used against you. I will help you exercise your rights and fight vigorously for the best possible outcome. Reach out as soon as you receive notice of a magistrate hearing.